Profesorovi na univerzite v Colorade v spolupráci so študentom Ph.D. na univerzite v Michigane sa podarilo sformulovať koncept nového Altcoinu s ú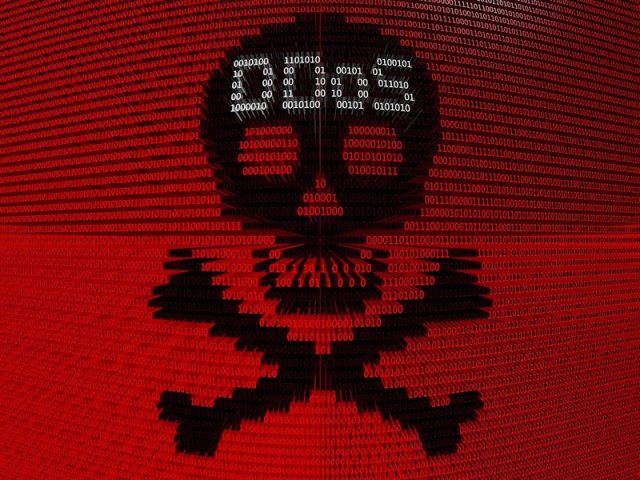 Profesorovi na univerzite v Colorade v spolupráci so študentom Ph.D. na univerzite v Michigane sa podarilo sformulovať koncept nového Altcoinu s úplne novým konsenzus mechanizmom. Táto teoretická kryptomena s názvom "DDoSCoin" platí útočníkom za podieľanie sa na denial of service (v skratke DDoS) útokoch.
Proof-of-DDoS bude odmeňovať ťažiarov za podieľanie sa na útoku na cieľový server
Teoretici DDoSCoin-u Eric Wustrow a Benjamin VanderSloo sformulovali kryptomenu, ktorá bude odmeňovať za zrealizované útoky na TLS web servre. O tom, ako tento nový "Proof-of-Work" protokol bude fungovať, odprezentovali vo svojom "White Paper". Ťažiari na tejto sieti sú "motivovaný" k vytváraniu obrovského "trafficu" na cieľovú internetovú doménu za účelom dosiahnúť preťaženie a nedostupnosť danej domény / služby / servera (Denial of service).
S DDoSCoinom budú môcť jeho majitelia obchodovať na internetových exchange burzách podobne ako s Bitcoinom a inými alternatívnymi kryptomenami (Ethereum, Dash…). White Paper taktiež uvádza, že DDoSCoin bude poskytovať svojím "ťažiarom" a majiteľom botnet-u príležitosť získať odmenu za podieľanie sa na decentralizovanom DDoS útoku. Z tohto White Paper sa môžete dočítať:
Mechanizmus Proof-of-DDoS funguje na princípe vytvoriť čo najväčší "traffic" a čo najväčšie množstvo TSL pripojení na cieľový web server, pričom odpoveď tohto servera sa používa ako potvrdenie o uskutočnení pripojenia (proof of connection).
Popri konceptu Proof-of-DDos bola predstavená aj vízia, akým spôsobom sa bude vyberať cieľový server pre decentralizovaný DDoS útok, a to na základe konsenzusu dosiahnutého pomocou proof-of-stake protokolu, čo znamená, že namiesto náhodnej cieľovej stránky pre útoku sa bude výber tejto stránky dosahovať skupinovým rozhodnutím. DDoSCoin je navrhnutý tak, aby umožňoval ťažiarom vykonávať sústavne opakujúce sa pripojenia na cieľový TLS server. Ak sú pri útoku splnené parametre protokolu, dosiahne sa vyťaženie nového bloku.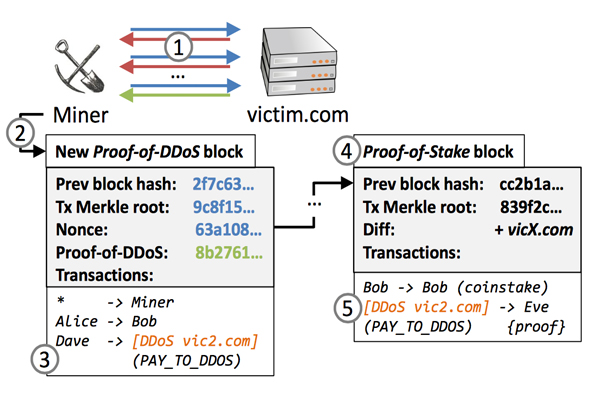 Pre potvrdenie vyťaženého bloku musí byť potvrdených niekoľko krokov. Po prvé, ťažiari musia overiť hash predošlého bloku, podobne ako je to pri ťažbe Bitcoinu. Následne musia overiť celú sieť certifikátov, ktorá je pridelená k serveru, na ktorý útok prebehol. Potom ako prebehne kontrola a overenie tohto serveru, je následne pridelený verejný kľúč (public key). Nakoniec musí byť tento blok overený tak, aby sa zhodoval s celkovou obtiažnosťou tejto siete.
Čo na to etika?
DDoSCoin vyzerá naozaj ako zaujímavý projekt pre hackerov zaoberajúcich sa DDoS útokmi (napr. Anonymous), pričom odteraz môžu byť vďaka DDoSCoin-u za ich činnosť aj odmenený. Je vôbec dôležité zaoberať sa aj otázkou etiky pri takto získaných "coinoch"? White Paper sa neodvoláva na žiadne etické dopady aj preto, že sa jedná o jedinečný model, ktorý doposiaľ neexistoval. Autori sa vyjadrili, že vymysleli aj koncept "opatrení na zmiernenie škôd". Ide o to, že systém umožní verejnosti indentifikovať ťažiara – jeho IP adresu, nakoľko publikovaný DDoS Blok sa bude nachádzať vo verejnom blockchaine.
Identifikácia útočníkov však pravdepodobne nebude taká jednoduchá. Veľa útočníkov môže a bude používať proxy, botnet alebo "nepriestrelný" hosting, ktorý bude ich útoky kryť. Získanie útočnikovej IP adresy podľa názoru autorov nie je dostatočný dôkaz k zahájeniu právnych opatrení proti útočníkom.
Čo si myslíte o tomto koncepte? Myslíte si, že sa jedná o dobrý nápad odmeňovať útočníkov za takéto druhy útokov? (Svoj názor môžete vyjadriť v komentári pod článkom. Za Váš názor Vám ďakujeme).